Impeachment Update
December 19, 2019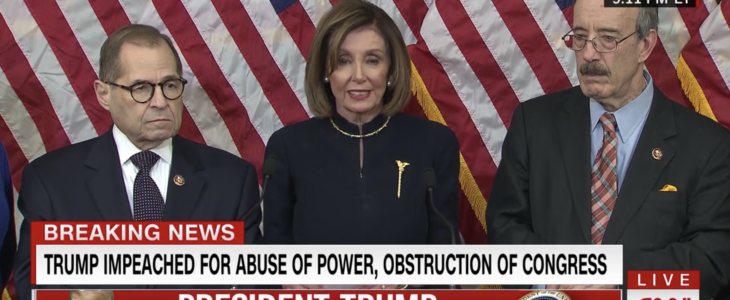 Story below Courtesy of NPR.org
President Trump Impeached By The House In Historic Rebuke
December 18, 20198:34 PM ET
House Speaker Nancy Pelosi, D-Calif., announces the passage of the first article of impeachment, abuse of power, against President Trump by the House of Representatives on Wednesdsay.House Television via AP
Updated at 9:20 p.m. ET
House lawmakers voted to impeach President Trump on Wednesday in only the third such rebuke in American history.
The move triggers a trial for Trump in the Senate, expected in January — one in which majority Republicans are likely to permit him to retain his office.
The vote was 230 to 197 on the first of two articles of impeachment — abuse of power — with one member voting present. The House then passed the second article — obstruction of Congress — with a vote of 229 to 198, with one member voting present.
The vote was largely along party lines. Every Republican opposed impeachment.
The sole independent in the House, Michigan Rep. Justin Amash, voted with Democrats.
Two House Democrats — Rep. Collin Peterson of Minnesota and Rep. Jeff Van Drew of New Jersey — opposed Article 1. A third Democrat, Rep. Jared Golden of Maine, joined Peterson and Van Drew to oppose Article 2.
Hawaii Democratic Rep. Tulsi Gabbard, who is running for president, voted present on both articles.
History months in the making
The House vote follows months of talk by Democrats about impeaching Trump and investigations that deepened profound political division across the country.
For more and continuing coverage visit & support NPR.org