What is Juneteenth?
June 17, 2023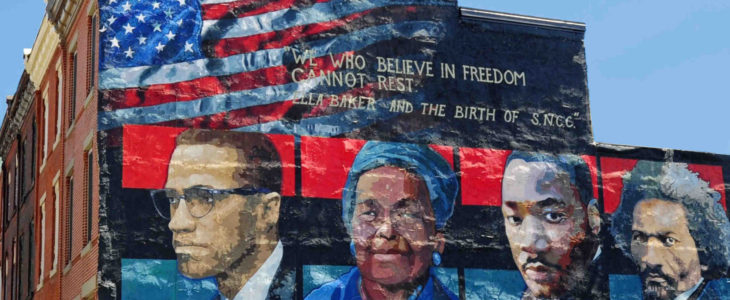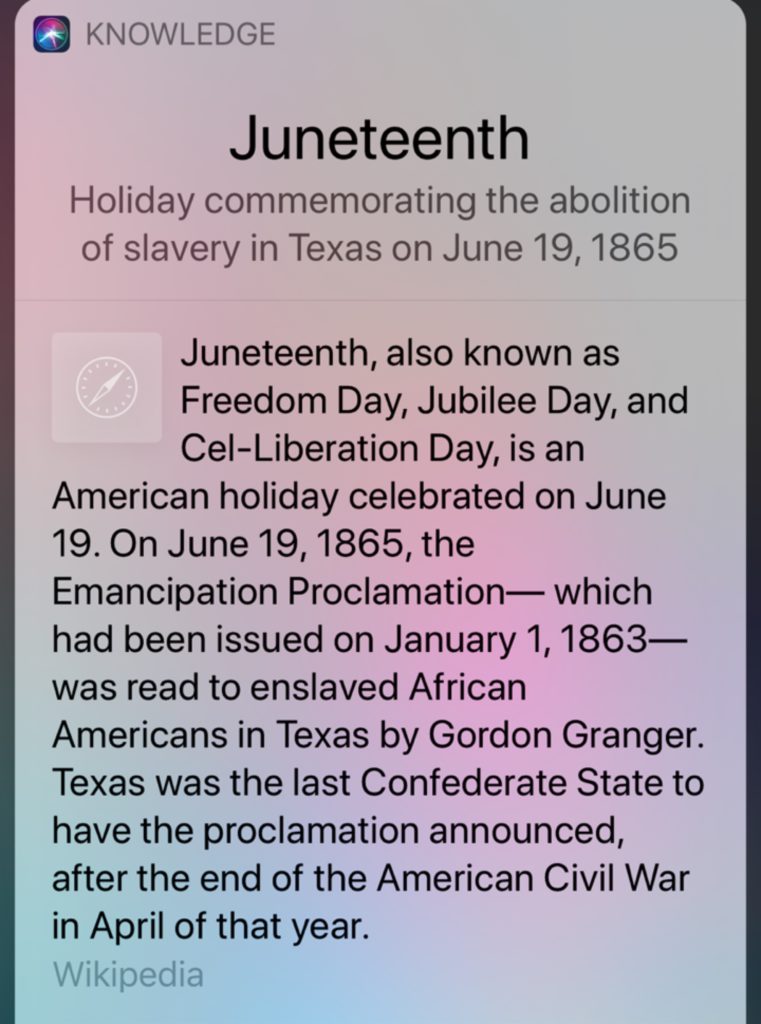 Updated in 2021: Officially as of today, June 17, 2021 with the stroke President Biden's pen, Juneteenth is recognized as National (Federal) Holiday!
Let's enjoy celebrating this weekend and every year from now on ! June 19th is Juneteenth!

At Big Papa Foundation we aim to educate and inform. This month there seems to be a lot of confusion about Juneteenth, so we provide a quick reference here for you courtesy of Wikipedia.
Happy Juneteenth! This is a holiday everyone is welcome to join in and enjoy!
All are welcome to chime in Below and comment about how you mark this occasion and tell us what you do to celebrate.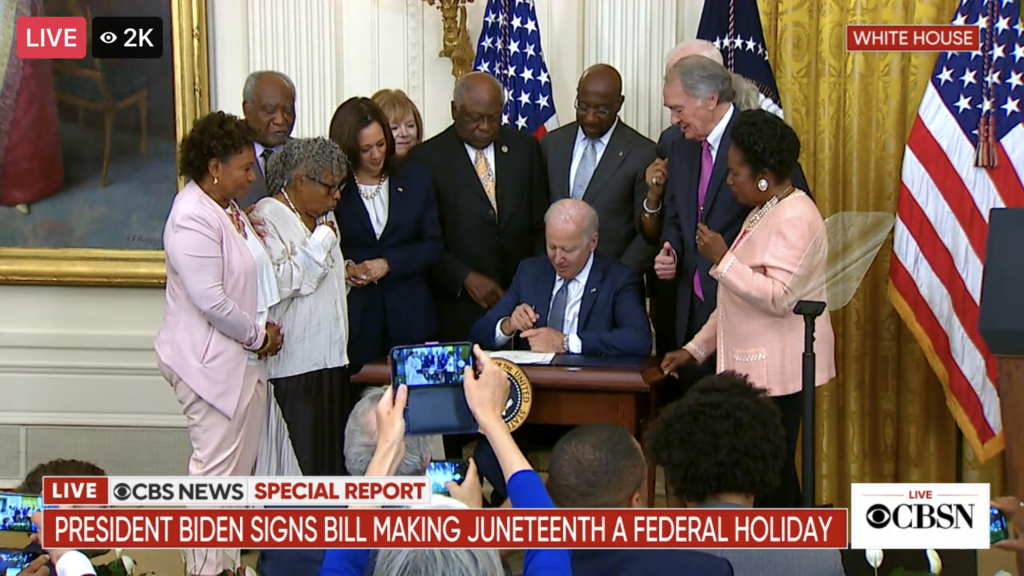 email from Senator Booker :

Today is Juneteenth. President Abraham Lincoln signed the Emancipation Proclamation to declare an end to the vile institution of slavery in America in 1862. But, many enslaved people were still held captive even after the Emancipation Proclamation was signed.
On June 19, 1865, the word of freedom finally reached a community of enslaved people in Galveston, Texas. It was on that day that Union soldiers, led by Major General Gordon Granger, arrived in Galveston to declare freedom for the people who were still enslaved. It had taken nearly two and a half years for this news to travel to the hundreds of thousands of enslaved people still remaining in Texas.
The celebration of rejoice and reunion that followed is one we continue to this day.
On this Juneteenth, I am taking time to remember our history, to rejoice in the progress we have made and reflect on the enormity of the work we have left to do.
The truth is that even once Black Americans were emancipated, our ancestors continued to face enormous barriers: to live free from racism and racialized violence, to work with dignity, to vote, to build wealth and economic security for themselves and for future generations.
Today, as those barriers remain, so must our commitment to justice.
That is why I am working to push Congress to act to take the transformative steps needed to address the hate and systemic racism that is still so deeply rooted in our laws and institutions. We must finally make lynching a federal crime, reform our criminal justice system, and critically, intervene to create more transparent and accountable police departments.
The injustices we must confront are interrelated: from environmental injustice that disproportionately affects Black Americans to disparities in health access and outcomes to the staggering racial wealth gap that disadvantages Black families. We have so much work to do.
Today, as I honor the sacrifices made by my ancestors and rejoice in their grace and relentless hope for this country, I renew my commitment to fighting for true justice and equality for all.
I hope you will join me.
Cory
From Elizabeth Warren:

On June 19th, 1865, Galveston, Texas erupted in joy when news of emancipation finally arrived more than two years after Abraham Lincoln signed the Emancipation Proclamation. That day is known as Juneteenth: the annual and oldest known celebration commemorating the end of slavery in the United States.

Juneteenth is a chance to tell the resilient, persistent, bold and beautiful story of African Americans. How even in the face of oppression, Black Americans throughout our history have never stopped imagining and fighting for a better tomorrow. Not just for themselves, but for our entire nation.

But Juneteenth isn't just about celebration. It's a necessary reminder that 155 years later, Black Americans still feel the weight of government-sponsored racism and discrimination devaluing their lives and livelihoods.

Over the last few weeks, people have poured into the streets here in America and around the world to protest police violence against Black lives.

People are pouring into the streets because racist violence and white supremacy are still being used as tools of oppression to devalue and destroy Black lives. The tools of oppression come in all shapes and sizes, but today, on Juneteenth, I want to name three we must destroy.

The first tool is violence against Black lives.

We need real accountability for anyone — including law enforcement officers — responsible for the unjustified killings of countless Black Americans, and for any excessive use of force during peaceful protests.

We need to rethink our approach to public safety to focus less on locking people up and more on community investments to lift people up.

And we need to vote out a president who glorifies violence. He told us who he was, and now he's showing us who he is.

The next tool of oppression is voter suppression.

Racist politicians have used racist voter suppression laws to steal votes from people of color for generations. Partisan gerrymandering allows politicians to pick their voters instead of the other way around. Enough.

We need a constitutional amendment guaranteeing every United States citizen the right to vote and have that vote counted. We need to restore the Voting Rights Act, overturn every racist voter suppression law, and end partisan gerrymandering.

Another tool of oppression is economic inequality rooted in generations of deliberate discrimination and racism.

To ensure Black Americans have the opportunity to build wealth and build a future, we need to confront the racial wealth gap head on. And yes, that means providing assistance to first-time homebuyers who live in formerly redlined neighborhoods. But it also means cancelling student loan debt, funding Historically Black Colleges and Universities, investing in small businesses and giving Black entrepreneurs the resources they need.

And there is so much more we need to do to root out racial injustice in our health care system, our educational system, our housing policies, in the workplace, and in every part of our society.

I have not personally experienced and can never truly understand the fear, the oppression, and the pain that confronts Black Americans. But none of us can ignore what is happening in this country.

I understand the responsibility that I and others have as white Americans to come together with all justice-loving people and ask what we are doing to dismantle a system that has too often undervalued Black life. We cannot just be allies. We must be anti-racists.

So today on Juneteenth, and every day, let us recommit ourselves to defending the unshakeable truth that Black people matter, Black families matter, Black lives matter.

— Elizabeth 
Added June 19, 2021:
On June 19, 1865 — 156 years ago today — Union soldiers arrived in Galveston, Texas and declared that slavery was finally over.

The formerly enslaved people of Galveston erupted in joy. Ever since, today has been known as Juneteenth: the annual and oldest known celebration commemorating the end of slavery in the United States.

This year, for the first time, it's an official federal holiday, too — passed by Congress and signed into law by President Biden this week.

I'm very happy that Juneteenth is finally getting the official recognition it deserves. It's a chance to tell the story of how even in the face of oppression, Black Americans throughout our history have never stopped imagining and fighting for a better tomorrow. Not just for themselves, but for our entire nation.

Of course, it isn't enough to get together and celebrate how far we've come. We have to get together and see how far we need to go.

Just look back at the history: On that first Juneteenth, it had been over two years since President Lincoln had signed the Emancipation Proclamation — but freedom on paper doesn't always mean freedom in practice.

Today, we have to recommit ourselves to rooting out systemic racism in every aspect of our economy and society — including health care, housing, education, banking, policing, and voting.

Over a year into a nationwide racial reckoning, we still have to confront white supremacy in all of its forms. We must cement the unshakeable truth that Black lives matter.

I understand the responsibility that I and others have as white Americans to ask what we are doing to dismantle a system that has too often undervalued Black life. We cannot just be allies. We must be actively anti-racist. We have to fight alongside everyone who's still waiting for justice.

That's what I'm remembering today as we honor Juneteenth.

– Elizabeth

 

From CHEJ:
 
Today is Juneteenth, a day that commemorates the end of slavery in the United States. It is a day in honor of Black freedom, resistance, and strength. 
On this day we give tribute to Black communities and their contribution to the struggle for justice in the United States. It is also a day for action. On this Juneteenth, we must rally together in defense of Black lives. 
March, donate, sign petitions, call your representatives, educate yourselves, your family and your friends: there are many ways to be involved in the movement for racial justice in this country. 
Resources
– Attend these rallies and marches this week in the D.C. area: https://sixnineteen.com/?fbclid=IwAR17XkIem9Yn8MDwYx8Ns9KQ4ecTJSVoIJm_dpnV9qCTvVZstua0sy0NpDY
Or find an event near you. 
– Read Lois' statement in support of the Black Lives Matter movement: http://chej.org/in-support-of-the-black-lives-matter-movement/
– Watch this video about this year's Juneteenth movement: https://www.youtube.com/watch?v=rIdaEgqrRXs&feature=youtu.be
– Listen to The Next Move: A Podcast about building the future we want: https://peoplesaction.org/nextmove/
 
Today is not a day for silence or apathy. Today is a day for action. 
Together we can create a fairer and more equitable world. 

– The Team at CHEJ